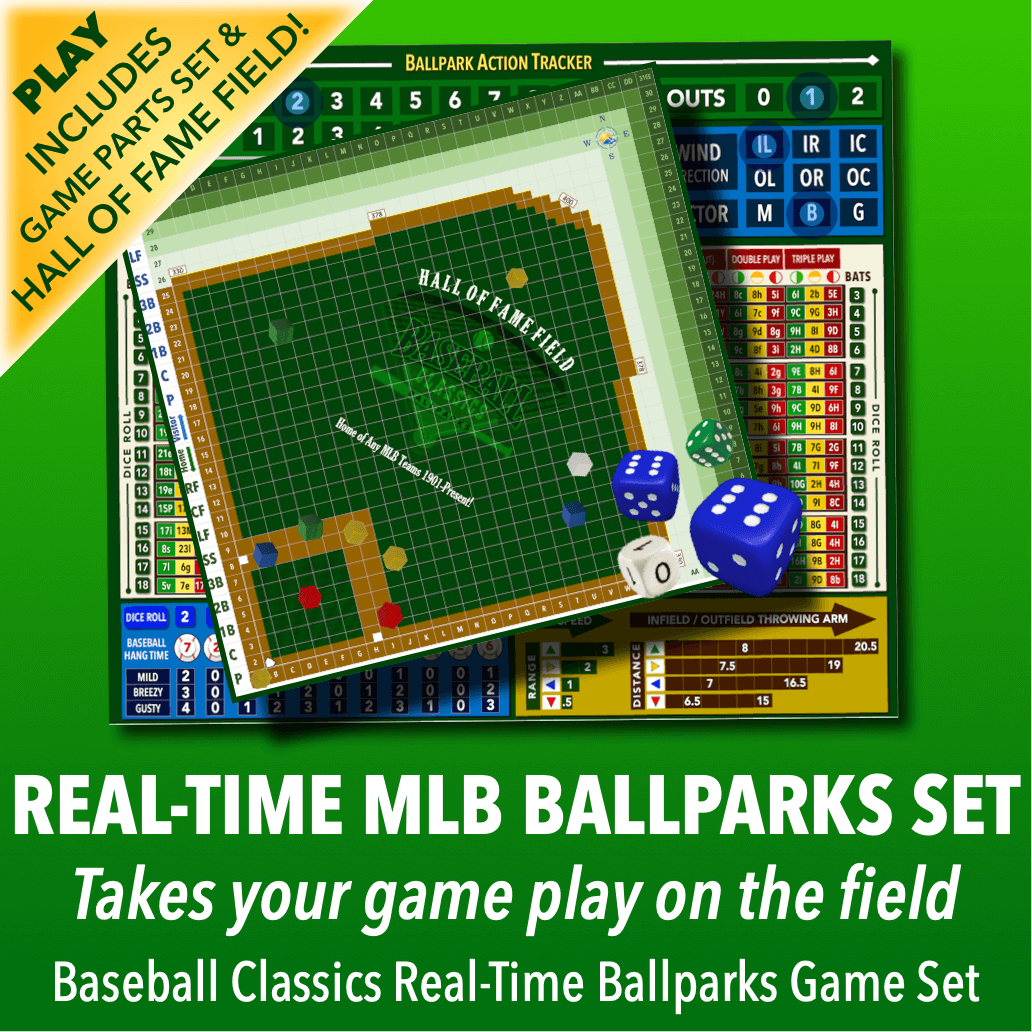 REAL-TIME BALLPARK SET
ADDS DYNAMIC HITTING & FIELDING!
Baseball Classics next generation game play
Baseball Classics Real-Time Ballpark Set is a "perfect game" add-on to your Baseball Classics game play with lefty-righty hitting & pitching that adds dynamic, real-time events on the field from the first to the final out anytime the ball is put into play!
Just like an MLB game, make on-the-spot managerial decisions that impact where to position fielders, where to throw the ball, which base runners to send, etc.  Packed with over 25 features & events such as wind factor, make-up speed, arm strength, the shift, rundowns, & more to ensure truly authentic play.
Play any of your favorite MLB teams 1901-present where they played. FREE SHIPPING in Continental USA!
Real-Time Ballpark Set comes with all the game pieces to play including our "Hall of Fame Field" starter ballpark!  Add-on any of our Ballparks MLB Chart Sets 1901-Present!
Here's what you get: Baseball Classics Ballparks Rulebook, Quick (reference) Card, Fielder Cubes (12 each – green, yellow, blue, red, with 1 white and 1 black), 6 Scorefield Chips, Game Dice, and featuring 1 starter ballpark – "Hall of Fame Field".
You can add 30 current or up to 50 Old-Time actual MLB Ballparks Charts!  
Our Commitment With Every Order
Worldwide Delivery
Shipped anywhere in the world
Free Shipping
In Continental U.S.
No Hassle Returns
Your 100% Satisfaction Guaranteed
80 MLB current and old-time ballparks charts are packaged and sold separately (game parts not included) to add-on to your Baseball Classics Ballparks game play!  Here they are:
30 Current MLB Ballparks
10 Old-Time MLB Ballparks #1  (Astrodome, Atlanta-Fulton County Stadium, Braves Field, Milwaukee County Stadium, Busch Stadium, Colt Stadium, Ebbets Field, Los Angeles Memorial Coliseum, Jarry Park Stadium, Kansas City Municipal Stadium)
10 Old-Time MLB Ballparks #2  (Olympic Stadium, Polo Grounds, Cleveland Municipal Stadium, League Park, Kingdome, Shea Stadium, Memorial Stadium, Veterans Stadium, RFK Stadium, Sicks Stadium)
10 Old-Time MLB Ballparks #3  (Exposition Park, Forbes Field, Three Rivers Stadium, Arlington Stadium, Crosley Field, Mile High Stadium, Griffith Stadium, Metrodome, Comiskey Park, Hilltop Park)
10 Old-Time MLB Ballparks Charts #4  (

Exhibition Stadium, Huntington Avenue Grounds, Metropolitan Stadium, Los Angeles Wrigley Field, Sun Life Stadium, Turner Field, Jack Murphy Stadium, Oriole Park, Washington Park, Yankee Stadium – original

)

10 Old-Time MLB Ballparks #5  (Baker Bowl, Candlestick Park, Palace of the Fans, Riverfront Stadium,Seals Stadium, Shibe Park, South End Grounds, South Side Park, Sportsmans Park, Tiger Stadium)
50 Old-Time MLB Ballparks Discount Bundle!
All 80 Current & Old-Time MLB Ballparks Savings Package!
Baseball Classics provides
Free shipping
via USPS (United States Postal Service) for all orders sent
within the 48 continental United States
.  Most orders are processed for shipping within 1-2 business days.
We ship anywhere in the world.  Depending upon your location outside of the continental United States, shipping and handling fees will apply.
We offer a 100% satisfaction guarantee!  MLB fans loves Baseball Classics, though if for any reason you wish to return your product, we will accept it within 30 days from purchase.  Simply notify us via email at: sales@BaseballClassics.com to let us know so we can provide your shipping return code.  No questions asked, though feedback is always welcome.
"Simply put, the best game going and I have played all!!"
— Douglas Love
"Have been playing board baseball games since 1963.  Your game is not only fun, it is accurate, quick, and outstanding in it's appearance. The fact that I can get any team or league since 1901 is amazing."
David Urban – Baseball Classics customer
"I have been a Strat O Matic player for 25 years but after ordering your 1980 set…just could not put it down!!"
— Christopher Decker
"I think this game is terrific. I believe it is the best table-top baseball game on the market. It's ease of play combined with the easy to read card lay-out makes it a winner! I have played All-Star Baseball, Strat, Program IV Baseball, The Baseball Card Game…"
— Ken Sell