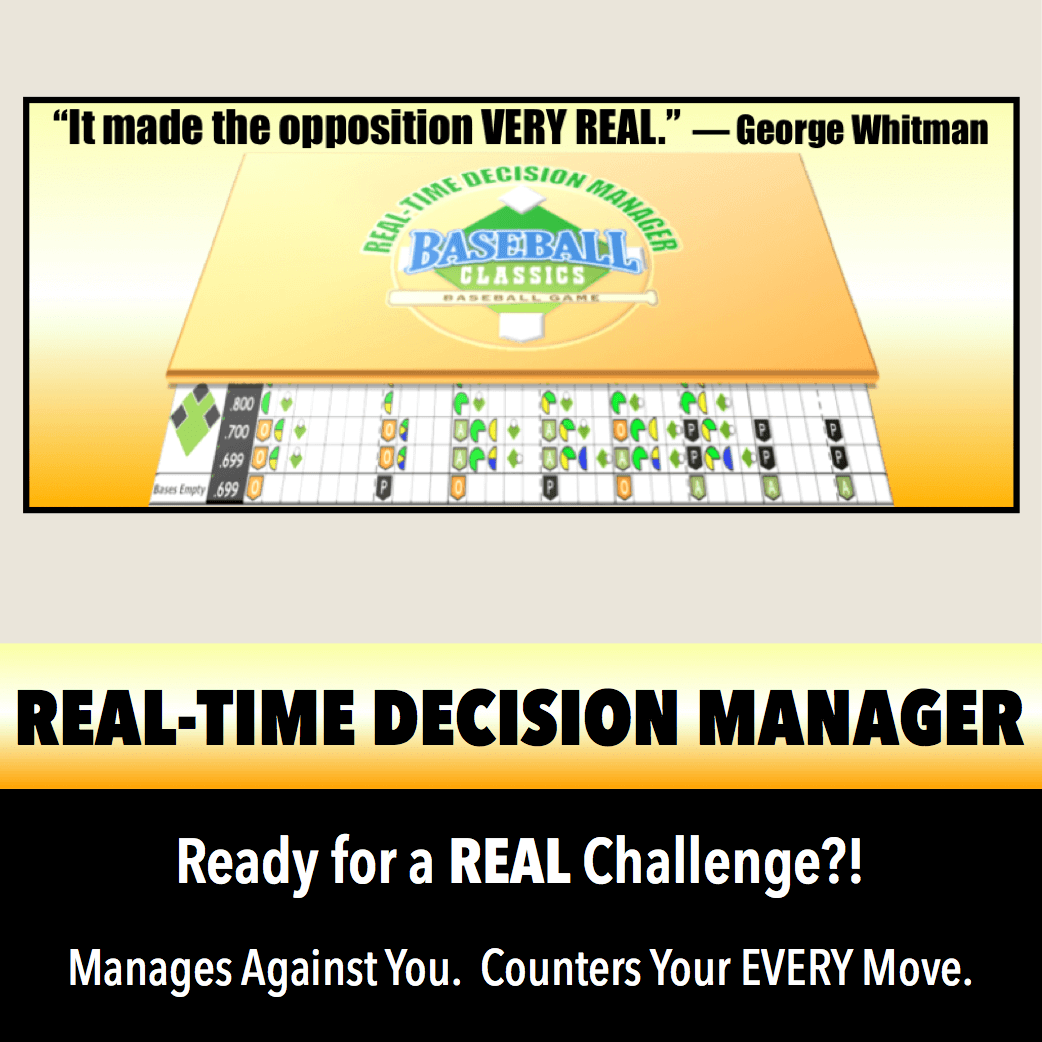 Baseball Classics© Real-Time Decision Manager is the perfect companion for your game play! Instead of making all the decisions for both teams during your solitaire game play, give the Real-Time Decision Manager one of both teams to manage! From the first pitch to the last out, everything is managed and decided in real-time before, during, and after every at bat.
Every situation is covered while at bat or the team is on the field to put the right strategies in place at the right time in real-time.
The Real-Time Decision Manager decides when to bring in what type of pinch-hitter or runner, when to steal or call a pitchout, go for an extra base or hold off on a throw to keep the double play in order, change pitchers, and so much more!
Designed from the ground up by Baseball Classics, it blends seamlessly into your game play. It's dynamic, fast, and easy to use, yet comprehensive to make tough decisions like MLB managers do. It fits easily in your Baseball Classics game box, comes in one package for your convenience to play and take with you.
Our Commitment With Every Order
Worldwide Delivery
Shipped anywhere in the world
No Hassle Returns
Your 100% Satisfaction Guaranteed
Baseball Classics innovative approach provides a new challenge and makes your game play even more dynamic. You may second-guess the Real-Time Decision Manager, then again you may find yourself second guessing your own decisions during your exciting Baseball Classics MLB game play.
Everything you need to know and play using the Real-Time Decision Manager is contained inside; instructions, examples, the Real-Time Decision Manager, and FAQ. It conveniently tucks away into your Baseball Classics baseball game box, you will always have tough competition to manage against!
Baseball Classics provides Free shipping via USPS (United States Postal Service) for all orders sent within the 48 continental United States.  Most orders are processed for shipping within 1-2 business days.
We ship anywhere in the world.  Depending upon your location outside of the continental United States, shipping and handling fees will apply.
We offer a 100% satisfaction guarantee!  MLB fans loves Baseball Classics, though if for any reason you wish to return your product, we will accept it within 30 days from purchase.  Simply notify us via email at: sales@BaseballClassics.com to let us know so we can provide your shipping return code.  No questions asked, though feedback is always welcome.
"Simply put, the best game going and I have played all!!"
— Douglas Love
"Have been playing board baseball games since 1963.  Your game is not only fun, it is accurate, quick, and outstanding in it's appearance. The fact that I can get any team or league since 1901 is amazing."
David Urban – Baseball Classics customer
"I have been a Strat O Matic player for 25 years but after ordering your 1980 set…just could not put it down!!"
— Christopher Decker
"I think this game is terrific. I believe it is the best table-top baseball game on the market. It's ease of play combined with the easy to read card lay-out makes it a winner! I have played All-Star Baseball, Strat, Program IV Baseball, The Baseball Card Game…"
— Ken Sell