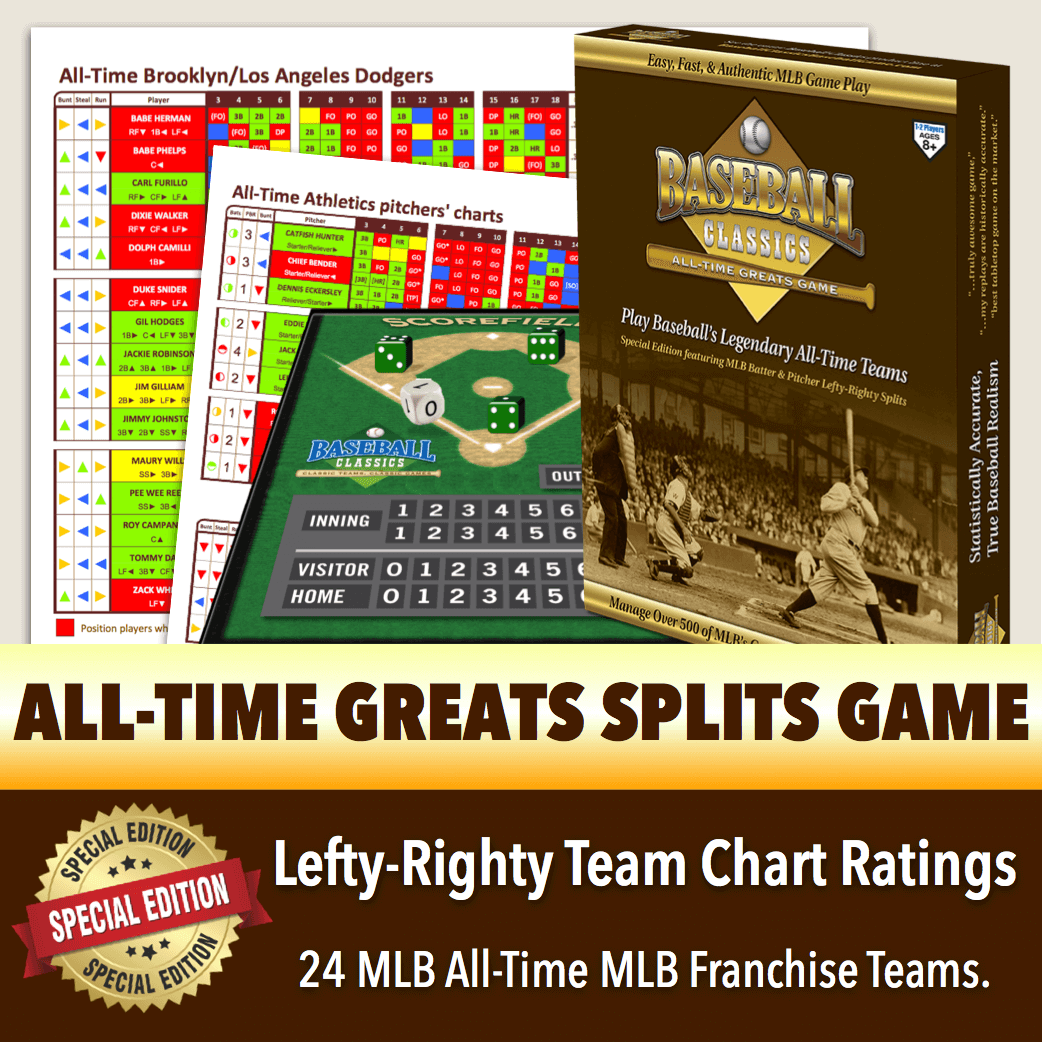 *SPLITS EDITION* Baseball Classics All-Time Greats Boxed Game featuring all players with lefty-righty split ratings for all 24 MLB teams manufactured on our brilliant, high quality Team Charts stock featuring color-coded batting, fielding, bunting, stealing, base running ratings or on the frontside with pitcher ratings on the backside.  Both sides have a full slate of statistics!
Each MLB team contains 24 MLB players (15 position players and 9 pitchers).  Players in this set that played outfield have fielding ratings based on leftfield, centerfield, and rightfield positions.
Baseball Classics thoroughly analyzed and hand-selected over 500 Hall of Fame and All-Star players from each historic MLB franchise dating back to 1901 through today's modern teams.
National League Teams
Houston Colt 45s-Astros, Boston/Milwaukee/Atlanta Braves, St. Louis Cardinals, Chicago Cubs, Brooklyn/Los Angeles Dodgers, New York/San Francisco Giants, New York Mets, San Diego Padres, Philadelphia Phillies, Pittsburgh Pirates, Cincinnati Reds, Montreal/Washington Expos-Nationals
American League Teams
Los Angeles/California/Anaheim Angels, Philadelphia/Kansas City/Oakland Athletics, Cleveland Indians, Baltimore/St. Louis Browns-Orioles, Seattle/Milwaukee Pilots-Brewers, Boston Red Sox, Kansas City Royals, Detroit Tigers, Washington/Minnesota Senators-Twins, Chicago White Sox, New York Yankees, Washington/Texas Senators-Rangers
Includes everything you need to play with 3 playing levels: beginner, intermediate, to expert for MLB fans ages 8 to adult.  Enjoy playing the greatest players in MLB history!
Our Commitment With Every Order
Worldwide Delivery
Shipped anywhere in the world
No Hassle Returns
Your 100% Satisfaction Guaranteed
Your Baseball Classics game includes our complete set of color game parts including: Field Manager's Rulebook (playing instructions), Magnetic Scorefield Game Board with Chip Markers, Game Dice, Lefty-Righty Pitcher Batting Ratings, Game Play Chart,  Fielding Grid, and Showdown Manager.  Each team has 15 position and 9 pitcher Baseball Classics player cards per roster.
Never worry about losing or accidentally destroying your Baseball Classics team charts — they come with the Free PDF version for you to print & play! You can always enjoy playing Baseball Classics. Anywhere. Anytime.
Baseball Classics provides Free shipping via USPS (United States Postal Service) for all orders sent within the 48 continental United States.  Most orders are processed for shipping within 1-2 business days.
We ship anywhere in the world.  Depending upon your location outside of the continental United States, shipping and handling fees will apply.
We offer a 100% satisfaction guarantee!  MLB fans loves Baseball Classics, though if for any reason you wish to return your product, we will accept it within 30 days from purchase.  Simply notify us via email at: sales@BaseballClassics.com to let us know so we can provide your shipping return code.  No questions asked, though feedback is always welcome.
"Simply put, the best game going and I have played all!!"
— Douglas Love
"Have been playing board baseball games since 1963.  Your game is not only fun, it is accurate, quick, and outstanding in it's appearance. The fact that I can get any team or league since 1901 is amazing."
David Urban – Baseball Classics customer
"I have been a Strat O Matic player for 25 years but after ordering your 1980 set…just could not put it down!!"
— Christopher Decker
"I think this game is terrific. I believe it is the best table-top baseball game on the market. It's ease of play combined with the easy to read card lay-out makes it a winner! I have played All-Star Baseball, Strat, Program IV Baseball, The Baseball Card Game…"
— Ken Sell